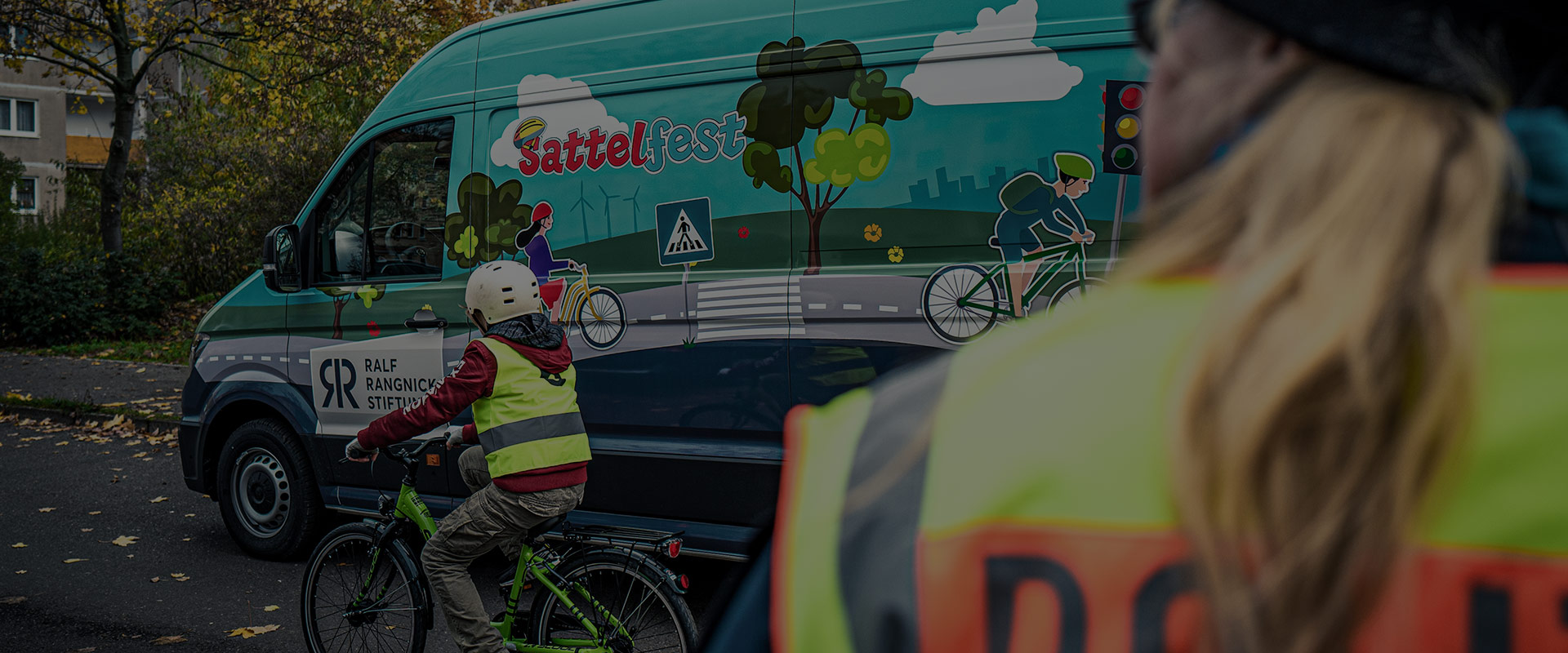 Kids cycling training
Riding a bicycle safely
107.325€ of 150.000€
107.325€ of 150.000€
Our
aim
We want primary school children from the first to the fourth grades to ride their bicycles safely and to be aware in traffic.
Brief introduction
Probably everyone has experienced how dangerous riding a bicycle in Leipzig can be.
Sound basic training in cooperation with the police is essential to ensure that traffic awareness is highlighted at an early age. The foundation acts here as a competent partner by conferring the qualification of riding firmly in the saddle through Leipzig with the "kid's biker licence."
Two new mobile junior traffic training centres
Establishing two new mobile junior traffic training centres is planned for the start of the 2018/2019 school year.
These will operate in parallel with the mobile junior traffic training centres which already exist, upon the start of the school year in the framework of their training seasons.
What are the topics?
The quantitative and qualitative expansion of bicycle education in the city of Leipzig is at the forefront, in accordance with the joint administrative regulation issued by the Saxon Staatsministeriums für Kultus (state ministry for culture) and the Saxon Staatsministeriums des Innern (state ministry for the interior) concerning the operation of junior traffic training centres. Children can practice traffic rules in a practical, reality-resembling manner outside actual street traffic by visiting mobile junior traffic training centres. Thus, children can learn techniques such as turning left or steering around obstacles. Training in traffic signs is also part of traffic education.
In addition, training sessions are offered on weekends, when children can acquire motoric skills for riding bicycles in general.
How do we help?
Equipping the vehicles: We will equip the vehicles belonging to the mobile junior traffic training centres with bicycles and helmets. Maintaining the vehicles will also be organised by us.
Methodology: Together with the police prevention team, we will revise the education guidelines, training police personnel in the area of educational theory and methodology, and developing new teaching materials. 

Training: In parallel to cycling education established during the daily school routine and lessons, we will implement informal training measures to teach children about riding bicycles in general.
The project is being carried out in friendly cooperation with the Leipzig police department, the Saxon police force, and Ralf Rangnick Foundation. The Leipzig road patrol Verkehrswacht Leipzig e.V. is assisting in the project as a consulting partner.